10. The 100
What if, just what if a nuclear Armageddon destroys civilization on Earth and the only survivors are those on the international space stations in orbit at the time. Then, because resources are dwindling, teams have to be sent down to earth in a bid to save humanity. Then we land and we notice, that in fact, there are people living down there, err… here. And they are very hostile, or just surprised. What could probably go wrong?
9. Designated Survivor
The president and the cabinet of USA, die in well-orchestrated attack, safe for one person. The secretary for housing and urban development, who by every political standard was a very low lying government official. And now the fate of the USA lies in his hands. This tv show gives a great dose of entertainment for political conspiracy series lovers like me, as President Tom Kirkman wallows in the midst of tribulations of a job he never asked for.
8. Blind Spot
Tattoo-covered Jane Doe emerges from a duffel bag in the middle of Times Square. She has no idea who she is or how she ended up naked inside of a piece of luggage. She may not remember her name, or anything else about herself, but her likes, dislikes, abilities, and knowledge are still present. Mmm, mysterious right? Wait until the tattoos are uncovered, Blind Spot turn out to be as good as sold.
7. Prison Break
Brains vs Brawn, who wins? Prison Break is one of the best conspiracy series out here. Coupled by twists and turns, it offers an enticing escape to a world of mistrusts which of course lead to break ups and break outs, which seems to be the main theme of the series. 'We are captives of our own identities, living in prisons of our own creation', one of the best lines I've ever heard in my life, thanks to Prison Break. I would rank it higher than this, but the series was better left off dead at season 4.
6. Lost
An original, emotionally satisfying piece of work that invites your mind to a thoughtful conversation. Lost is not only addictive, but also involving. A plane from Sidney to Los Angeles crushes on a mysterious Island. However, it's not your normal plane crush. 48 people survive the crush and have to face off with the wonders and enigmas of the island. Probably the only Tv series I have spent a lot of valuable time watching it, without a grain of regret.
5. Homeland
Ever heard of the saying that information is the most powerful ammunition? The day I heard this is the day I fell in love with Homeland. Rotten Tomatoes gave it a 100% rating for its first season, and anyone watching it will agree that "Homeland is an addictive, politically resonant spy thriller and compelling character study that benefits from superb performances" With seven seasons out now, I wouldn't feel out of place working in the CIA or whatever they call it in Russia.
4. Suits
"What is that, a new cologne? Or just a hint of jealousy?" "I always pay my debts… I'm a Lannister" If you are bemused by this, don't worry you just got Litt up. Ooh wait, you still don't get it do you?
Awesome is an adjective, and suits is why they invented it. Talk about swagger, the walk and talk drama is a perfect way to escape reality. With characters you will absolutely like and want to be like, the Specterism of Harvey and formidable Donna will light up your little world. It is also a chance to catch up with Meghan Markel before, well, you know before what.
3. Money Heist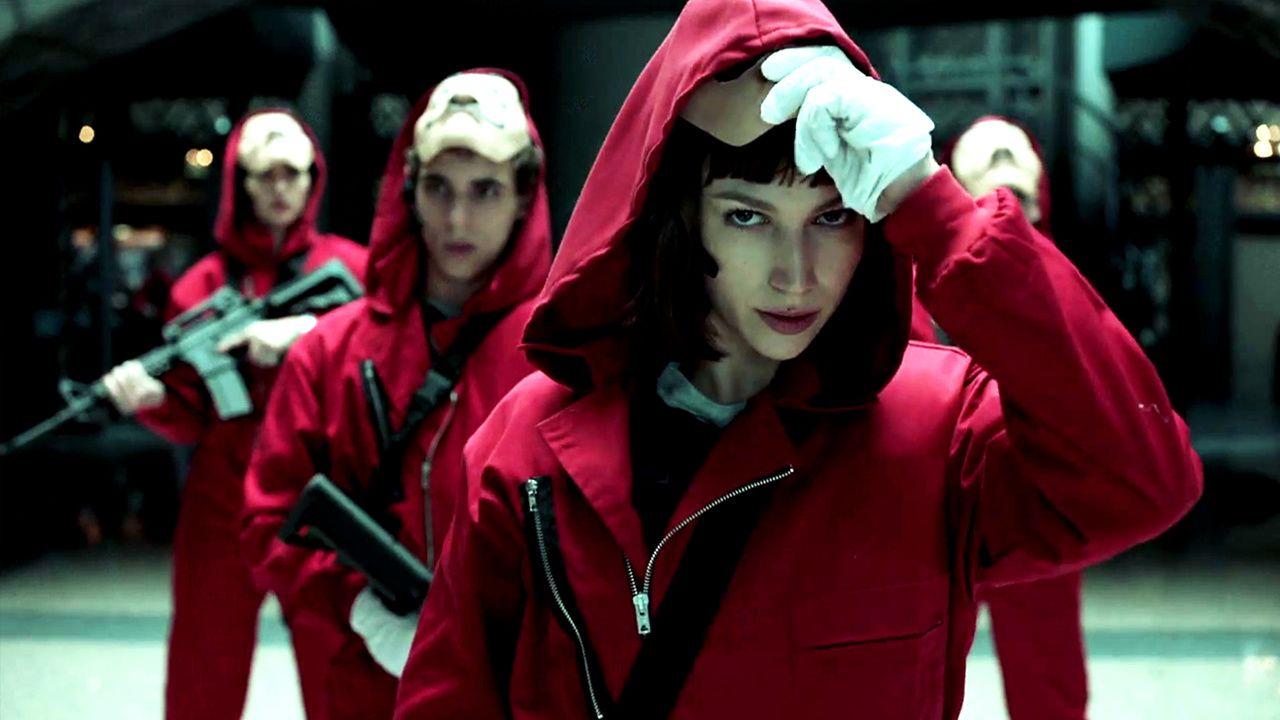 'O partigiano, portami via, O bella ciao, bella ciao, bella ciao, ciao, ciao' Sing along everybody!
La casa de papel, a Spanish television series, is arguably the best thing to happen to Spain alongside the weekly Messi Magic moments. A criminal mastermind who goes by "The Professor" has a plan to pull off the biggest heist in recorded history — to print billions of euros in the Royal Mint of Spain. To help him carry out the ambitious plan, he recruits eight people with certain abilities and who have nothing to lose. The group of thieves take hostages to aid in their negotiations with the authorities, who strategize to come up with a way to capture The Professor.
If you haven't watched the drama series, the least you can do is send me De la rue's GPS location or wherever they printed the new currencies!
2. Billions
Probably one of the most underrated TV shows of all time, Billions offers an enthralling collision of wealth, drama, politics and corruption. A story of predators and preys, exchanging roles now and then in a dramatic food chain. It boasts a long list of favorite characters who turn villains once in a while. The glamour in the drama series, combined with fun and amusing one liners won me. "Rumble in the jungle…thriller in Manilla…Zaire…" by Spyros, "the only enemy more dangerous than a man with unlimited resources is one with nothing to lose" Chuck Rhoades and "There's a way to make this work, and that way is hard. As Taleb says, 'become anti-fragile, or die'" by the smart Taylor Mason highlights why Billions and myself are joined in the hips!
1.Game of Thrones
You guessed that right, the best TV show of all time!
Probably the nudity and strong language earlier in the show might put you off, but the representation and the idea behind Game of Thrones is a master piece, and explaining it in words is not just enough. To many, it's just an overrated fictional work of art. Well, if you have an eye for details and a brilliance you'll realize just how practical and relevant the tv show is to the real world. Politics, Money and Sex. That's the world right now and game of thrones tells that story, and the unexpected ending couldn't be any better